Flora of School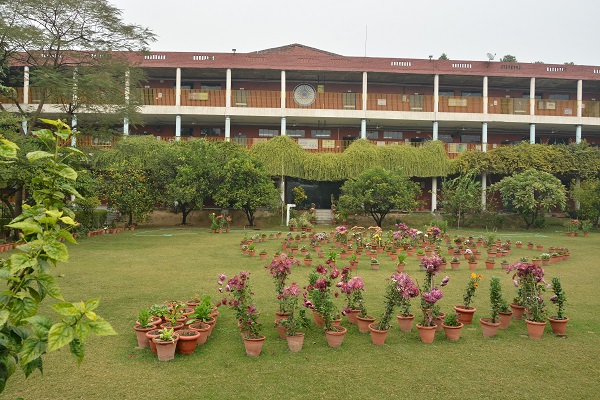 "Knowing trees, I understand the meaning of patience.
Knowing grass, I can appreciate persistence."
Plants are essential part of life on the Earth. There are several ways in which plants play their role in sustenance of life on everyday basis. Greenery in school premises is really important as it not only provides us with fresh air but also promotes an environment. When we have plants around, we feel at ease as it reduces stress and provides a feeling of well-being. It provides solace and soothes the person. It has an enchanting effect and is like an elixir of life. Besides being pleasing to the eyes, greenery also contributes to mental, physical and emotional well-being. Our school has a spectacular garden, having a wide variety of flowering plants such as Hibiscus, Canna, Lily, Rose, Chrysanthemum, Calendula, Pansies, Dog Flower, Sunflower, Petunia, Sadabahar etc. Creepers like Madhumalti, curtain creeper are seen on the railing of all the floors of the school building. The school garden has herbs like Aloe Vera, Basil etc. Our campus is full of various indoor and outdoor non-flowering plants like Snake Plant, Money Plant, Arica Plant, Split Leaf Philodendrons, Cacti, Spider Plant, Kentia Palm, Bonsai, Ferns and many more. The school has been nurturing some of the massive trees like Ashoka, Gulmohar, Golden Shower, Neem,Papri, Kinnow Oranges, Lemon, Bottle Brush, Ficusetc from last twenty years. The Ashoka trees planted along the school boundary stand for the school ideology supporting greener surrounding. Students are motivated to know about the school garden and trees through various 'environment club' activities.
"Learn character from trees, values from roots and change from leaves."
-By Ms. Ruchi